Preschool Programs Based on Education & Fun
Children ages three to four years old learn through expression and play. Their minds are constantly learning and developing as they get ready for kindergarten. The Learning Academy is proud to offer our educational, exciting preschool program for Westerville, OH children. Our fantastic curriculum is designed to address critical points of brain development. We customize our program to the needs of each stage of learning and development. Your preschool-aged children get to come to a place full of love and based on educational values. Contact us today to learn more.
The Learning Academy's Preschool Curriculum
The Learning Academy bases our curriculum on the comprehensive, research-based, Teaching Strategies Creative Curriculum®. Teaching Strategies create innovative ways for children to learn, allowing teachers to honor children's creativity and boost their learning in fun ways. The Creative Curriculum® objectives cover ten areas of development and learning, from arts and sciences to social studies and mathematics.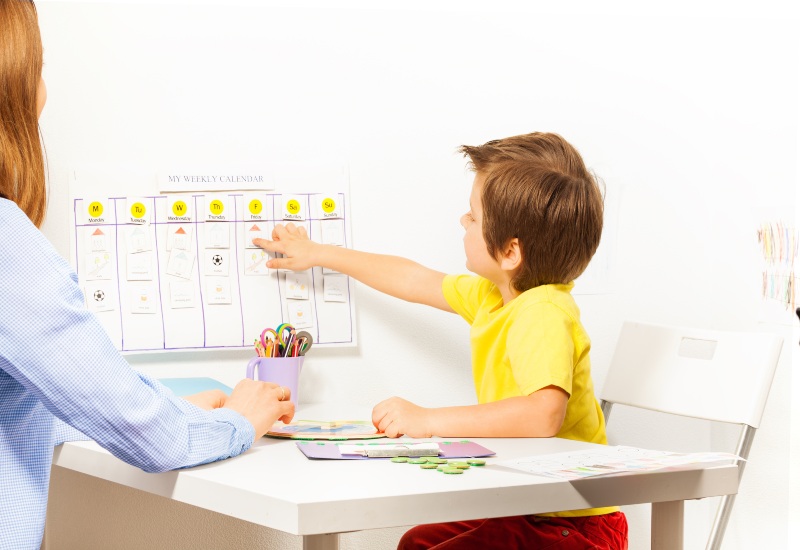 Preschool Classroom Activities
Preschool-aged children have excellent opportunities to enjoy learning centers and dive into make-believe play through our curriculum. They're introduced to mathematical thinking and literacy concepts through many activities, including:
Social and Emotional – Creative and make-believe play with classmates
Communication – Learns basic rules of grammar, sings songs, and tells stories
Cognitive – Uses problem-solving skills for drawing, understanding counting, and remembering arts of a story
Physical Development – Physically develops through actions like using child scissors and catching a ball
Pre-School Program Features
Our preschool program is committed to building brain power and strong bodies while having a great time. We go beyond the everyday daycare center programs that only monitor children while they play. Our stimulating environment is beneficial for many reasons with multiple features, including:
Educational curriculum that focuses on ten key areas of child development
Before and after school childcare programs
Transportation services
Live streaming monitoring
Nutritious meals
Caring and knowledgeable staff members
Choosing The Learning Academy Difference
The Learning Academy is in a league of its own regarding childcare programs. Our live monitoring lets you view your children at any time throughout the day. You have peace of mind knowing your children and learning and playing while you're away. Our director has earned degrees in early childhood development and education with decades of experience in child development. We work together to ensure your children are safe and healthy while in our hands.
The Learning Academy's Experienced & Professional Staff
We understand you want your child in the best possible hands at daycare. Our professional and experienced staff are ready to meet you and answer any questions. Each staff member has a work history in the childcare industry and has been extensively trained to administer our curriculum. We are proud of our exemplary staff members that go above and beyond for every child. They go through a rigorous screening process before we let them take care of your children.
Contact The Learning Academy 
Since 2018, The Learning Academy has provided excellent childcare for children of all ages. Our team offers a dynamic and engaging learning curriculum to help develop confident learners while having fun simultaneously. We encourage parent involvement with updates through WatchMeGrow and Tadpoles. We want to help your young children grow into positive students ready for kindergarten. Contact us today to schedule a tour.